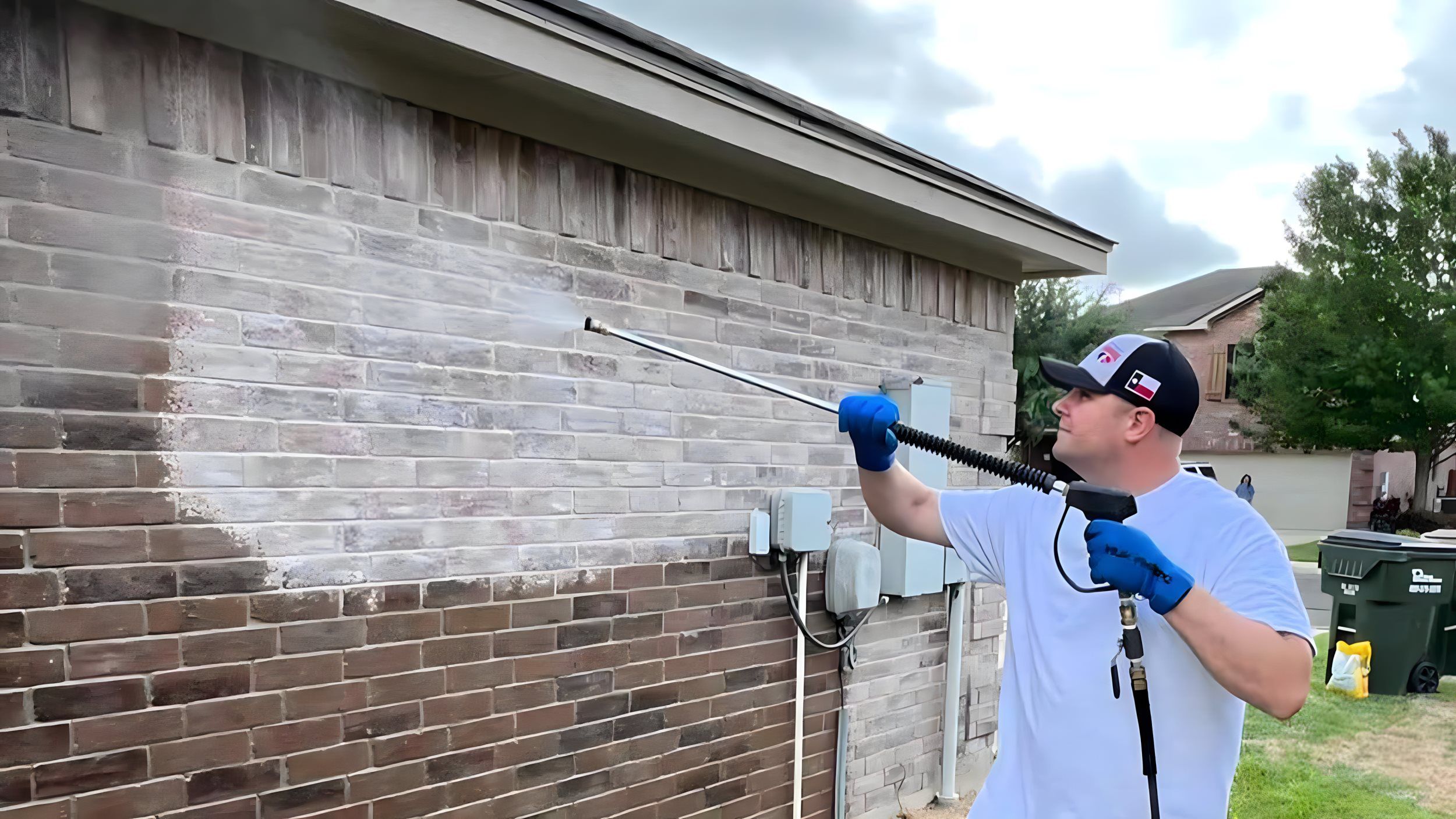 Go-To Pressure Washing Company Serving Dripping Springs
When the pressure washing pros clean your exterior surfaces at Bleu Bison Wash Solutions, you'll enjoy a boost in property value and a curb appeal that will always impress. If you have a home or business in Dripping Springs, you can rely on our experts to achieve the results you deserve from a professional company.
Pressure washing can do much more for your Dripping Springs' surfaces than make them look brand-new. The herd at Bleu Bison Wash Solutions have years of experience making properties look better than ever. Still, we also go the extra mile to ensure every area we treat gets long-lasting protection that will help them thrive for many years to come.
When you rely on our pressure washing crew in Dripping Springs, you'll get the following:
Commercial pressure washing experts that can make your business stand out

Honest technicians who prioritize the satisfaction of our customers

Non-toxic cleaning solutions that won't damage your landscaping or lawn

Precision-minded specialists who will get your surfaces spotless

Top-rated customer service and convenience
Are you ready to turn back the clock on your exterior surfaces? If you're in the Dripping Springs area, contact Bleu Bison Wash Solutions for pressure washing services you can trust.
Top-Notch House Washing For Dripping Springs
The weather here in Dripping Springs isn't too kind to our house sidings, and if they're not maintained, they'll end up hurting your property value and more. Professional house washing by Bleu Bison Wash Solutions is a small investment that will pay for itself in the long run, and our pros are capable of making any home look better than ever.
For our house washing service, we utilize specialized cleaning solutions and pressure washing systems that will clean every inch of your sidings. Our house washing treatment is perfect for enhancing curb appeal, protecting your sidings, eliminating germs, and removing years of built-up grime. So the next time you need a reliable house washing treatment, enjoy the peace of mind that comes from depending on honest professionals by calling Bleu Bison Wash Solutions.
Providing Dripping Springs With Essential Graffiti Removal Services
Spray paint is a tough thing to get rid of. Once it dries, it can be nearly impossible to clean off without the right tools and methods. That's why it's smart to call Bleu Bison Wash Solutions when you need graffiti removal in Dripping Springs. We have the methods and the experience to give you the most thorough spray paint cleaning.
Graffiti is often the work of sneaky vandals. When they graffiti your property and tarnish what you've worked hard on, your image is destroyed. We don't want that to happen to you, nor do we want you to have to live with the consequences. This is why we offer high-quality graffiti removal services. With this service, you and your customers can enjoy your exterior surfaces once again. They'll be free of the layers of graffiti that have been there for however long. Having a professional service like this means that you don't have to take on the job yourself, putting in tons of elbow grease and wasting your own time and energy.
Graffiti removal is about cleaning up your exterior surfaces, but it's also about cleaning up your image. If you are tired of living with the consequences of a couple of vandals, be sure to contact our team here in Dripping Springs. We'll be sure to give you the best service, at the best price, with the best results possible.
Reviews And Testimonials For Bleu Bison Wash Solutions In Dripping Springs