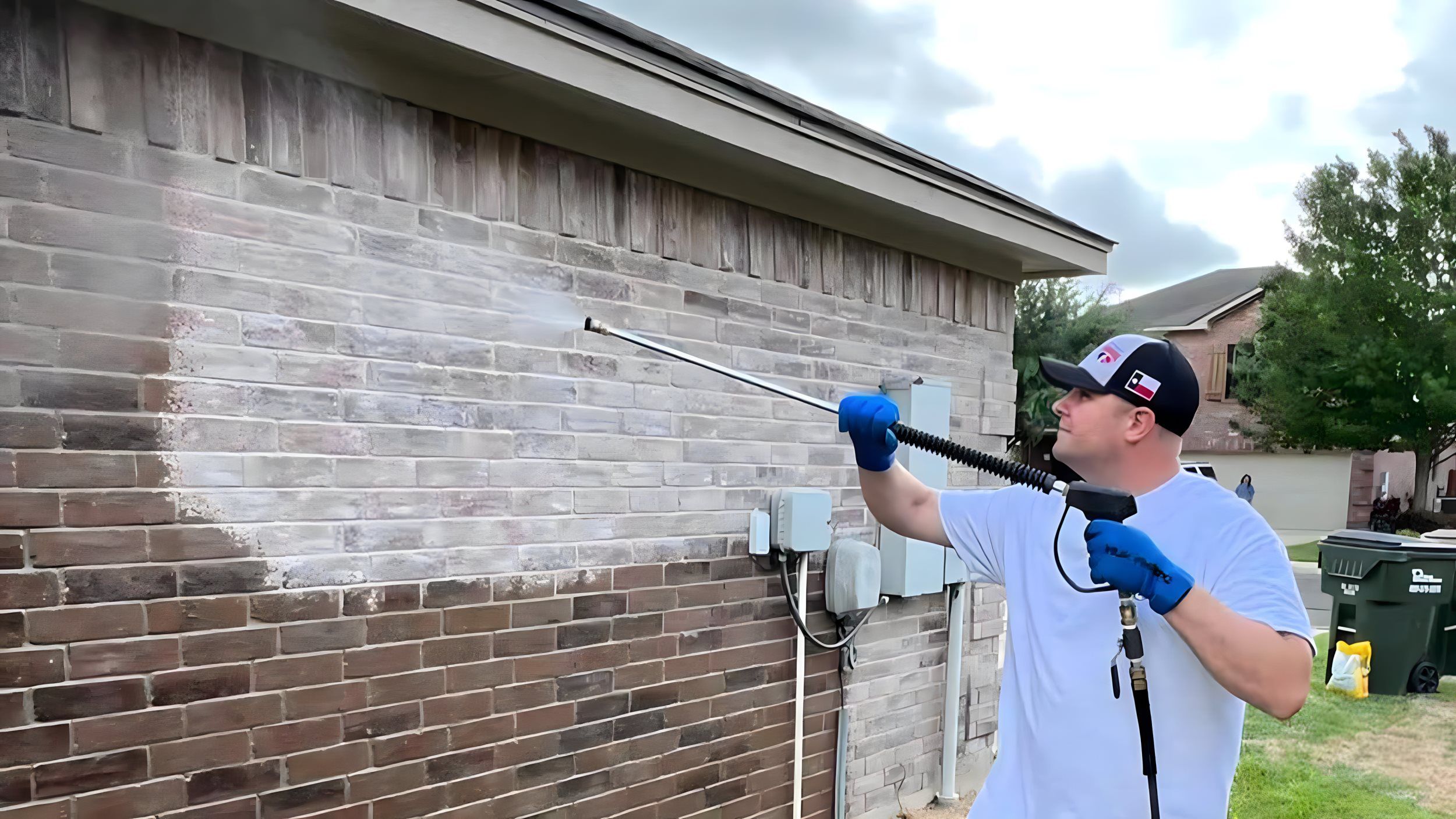 Experienced Pressure Washing Company In Schertz
When your exterior surfaces give you the blues, it's time to call in the herd! Bleu Bison Wash Solutions is the pressure washing company Schertz can always depend on for five-star services that never disappoint!
Schertz is, without a doubt, one of the best places to live, own a business, or raise a family in Texas, The people who live and work here cherish what they have, and the condition of their homes and businesses reflect that. Bleu Bison Wash Solutions is privileged to serve the community of Schertz with all their pressure washing needs, and our customers know that there's no challenge our pros can't overcome. If the exterior surfaces of your home or business could use the help of an experienced, honest team of pressure washing specialists, we'd be more than delighted to help.
Some of the professional services we provide for the community of Schertz include the following:
Surfaces cleaned by our experts will stay beautiful for longer and enjoy an extended lifespan that will save you money. For pressure washing that you can trust in Schertz, give Bleu Bison Wash Solutions a call at 830-730-8877.
Schertz House Washing By Trusted Professionals
House sidings, like every other exterior surface left exposed to the elements, will get dirty. And when house sidings get dirty, they detract from curb appeal, lower property values, and are at a higher risk of breaking down. If you're in Schertz and want your sidings to keep their gorgeous appearance, the house washing pros at Bleu Bison Wash Solutions have your back.
Our house washing treatment will get every one of your sidings clean, no matter what material they consist of or how hard to reach they may be. We use the latest and most trusted pressure washing technology to remove stubborn substances and grime, and when we're through, you'll enjoy a home that looks brand new once more.
Providing Exceptional Graffiti Removal Processes For Schertz
If you find that your commercial exteriors were tagged with unwanted graffiti, it's best to call Bleu Bison Wash Solutions. Graffiti is easier to clean off of some surfaces than others, so we'll do a proper assessment before we get started. For example, wood is more porous than concrete and also sustains damage more easily with strong water pressure. Our team of premier pressure washers can assess the damage on each material and use the correct technique for each one.
Before getting started, we cover any plants, flowers, and shrubbery that you don't want to be damaged by chemicals, debris, and water pressure. This ensures that we clean up your business exterior without causing any damage. After all, you've suffered enough already dealing with graffiti tags– the last thing you need is any more damage to your property! Next, we'll pretreat the surfaces with specialized cleaners to loosen the spray paint. After that, we spray the area down with the correct water pressure. We also have attachments like rotating scrub brushes to provide additional scrubbing power and ensure there is no trace of graffiti left.
We can even treat your exterior surfaces with a protectant to prevent future stains from setting in. This makes it easier to remove dirt, grime, and even spray paint during your next pressure washing service. The protective layer prevents grime from seeping into exterior surfaces and getting trapped.
Reviews And Testimonials For Bleu Bison Wash Solutions In Schertz