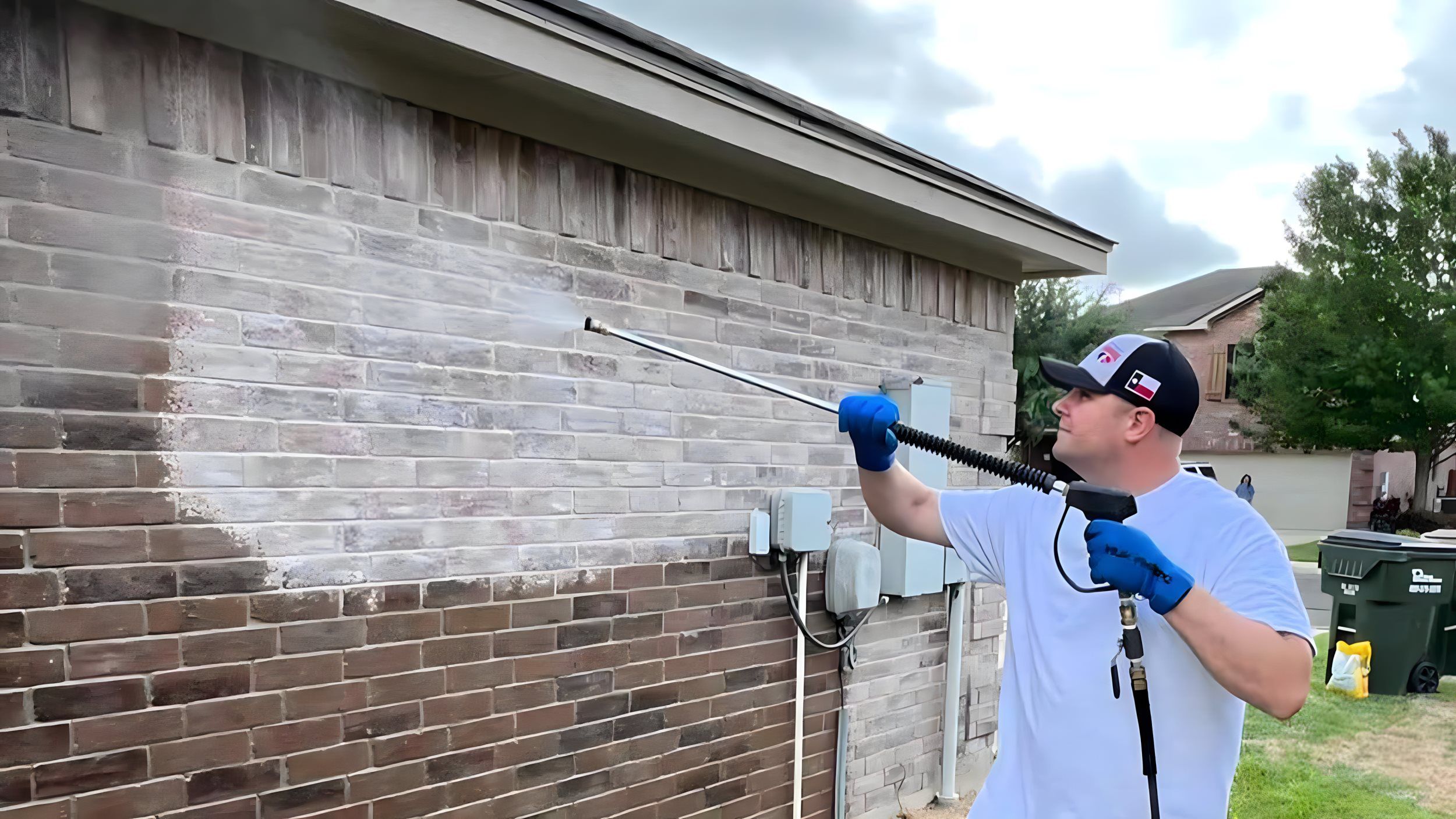 Commercial Pressure Washing For New Braunfels Businesses
Keeping the exterior surfaces of your business clean and beautiful will go a long way toward your future success. If you're in the New Braunfels area and need commercial pressure washing from a dependable company, you can always count on the experts at Bleu Bison Wash Solutions.
Commercial pressure washing by Bleu Bison Wash Solutions not only improves the curb appeal of your business but also:
Protects your exterior surfaces, so they don't need to be repaired or replaced

Disinfects and sanitizes your property so you and your guests can enjoy a healthier environment


Eliminates slipping hazards and other dangerous substances


Removes stubborn stains and eyesores


It prevents the spread of organic substances such as algae, mildew, and mold


Promotes a professional image that will welcome new and repeat customers alike

Bleu Bison Wash Solutions is proud to be the company businesses rely on when they need professional pressure washing for New Braunfels. Our technicians are punctual and detail-oriented, and once we give your our word, we'll keep it. We're always happy to help our fellow businesses in the area, and if your exterior surfaces could use a professional overhaul, we're the team you can trust!
For commercial pressure washing that you can always depend on New Braunfels, join the herd by calling Bleu Bison Wash Solutions today!
No matter how big or tall your building might be, our commercial pressure washing team can have it spotless from top to bottom! We use state-of-the-art pressure washing technology to give the sides of your buildings a precision clean that is sure to impress.
A filthy dumpster pad can emit foul odors, become a health hazard for your workers, and turn into an eyesore that may turn your customers away. Our professional dumpster pad cleaning is just the service you need if you wish to give your dumpster pad a rejuvenating clean that will eliminate germs, stains, and unpleasant scents.
Parking lots are prone to collecting slipping hazards, corrosive fluids, garbage, and other filth that can damage your business's curb appeal and reputation. With our commercial pressure washing treatment, we can get every parking lot's surface clean, beautiful, and healthy so you can keep your customers rolling in.
Dried-up gum is a headache for any business owner to have to deal with, and old gum is the last thing any of your customers wish to see. Let our professional gum removal team eliminate any old gum on your property, and you'll be more than relieved to make these eyesores a thing of the past.
If graffiti vandals have struck your New Braunfels area business or commercial property, the graffiti removal pros at Bleu Bison Wash Solutions will come to your rescue with our wide range of top-quality exterior cleaning services!
Company cars can be used for deliveries, transportation, and most importantly, advertisement! No matter where they're being driven, your company car can put your logo in view and help spread the name of your business.
Our Latest Commercial Pressure Washing Projects
Apartment Complex Parking Lot Cleaning In New Braunfels, TX
A client called and needed their entire apartment complex concrete areas to be cleaned. This included their driveways, parking areas and sidewalks. They also needed the parking lot to be striped and painted after cleaning. Unfortunately, they had tried to use another company before calling Bleu […]
Auto Shop Stone Cleaning And Brightening In Kyle, TX
A customer called needing their place of business to be cleaned. They receive a lot of foot traffic in and out of their commercial location and the limestone walls were just looking nasty. First, we started by removing all the debris and trash that had accumulated […]