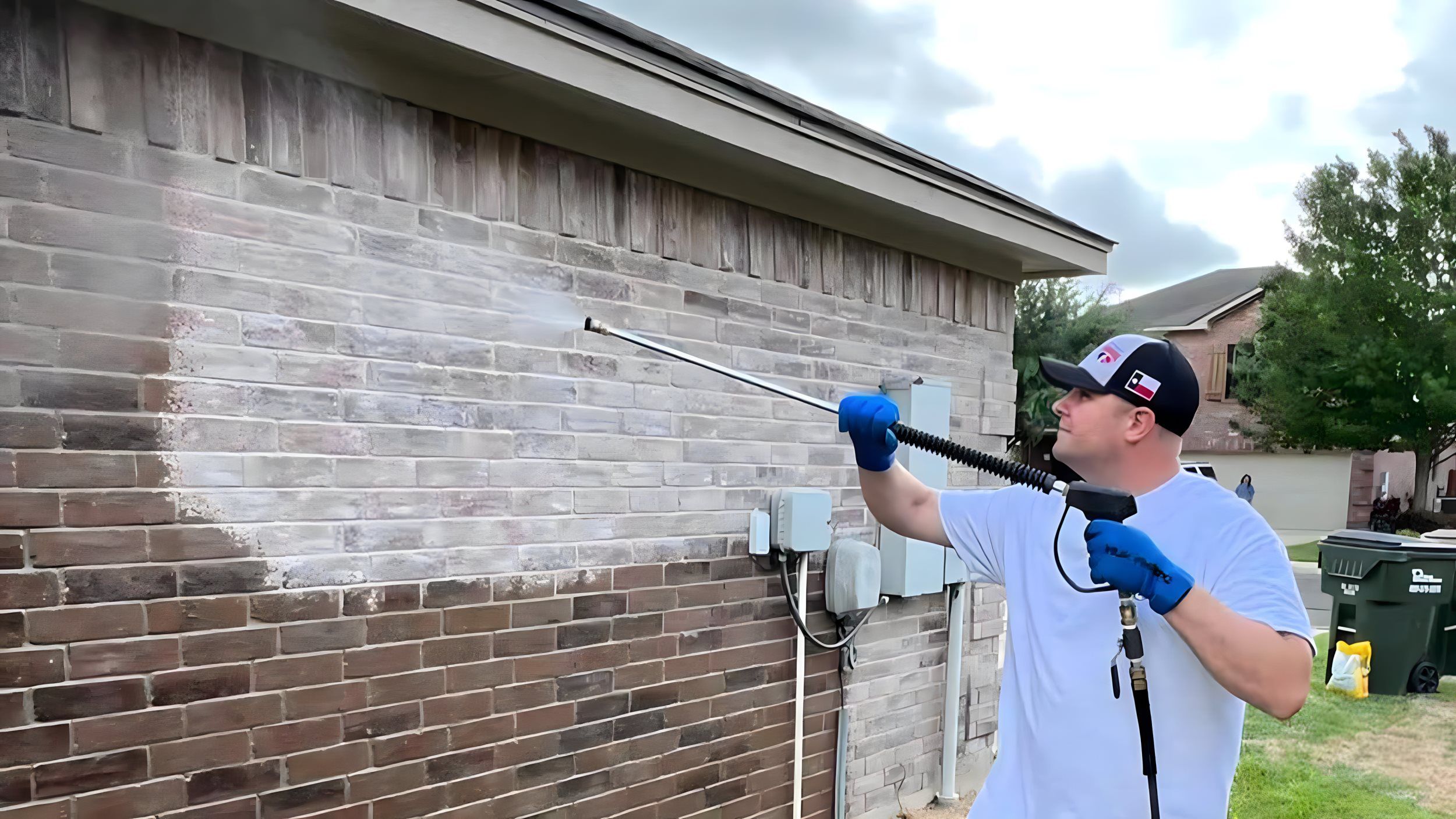 Go-To Pressure Washing Company Serving San Marcos
When exterior surfaces get dirty, they not only cause property values to drop, but they can cost a small fortune to repair or replace. If you're in the San Marcos area and need your surfaces professionally cleaned, you won't find a more reliable pressure washing company than Bleu Bison Wash Solutions!
One thing we love about the San Marcos community is the pride people put into their homes and businesses here. If someone takes excellent care of their property, they're more than likely the type of people who keeps their word and loves being where they are, and the same can be said about Bleu Bison Wash Solutions. We're a pressure washing company passionate about helping our neighbors, and we work harder than anyone to ensure they get the service and respect they deserve. If you need your surfaces cleaned, we promise that if you rely on our technicians, you'll get high-quality results and precision treatments unmatched by anyone else.
The next time you need a dependable pressure washing service in San Marcos, contact us for expert services such as:
We always love helping our neighbors protect their investments! For pressure washing you can rely on in San Marcos, call Bleu Bison Wash Solutions at 830-730-8877.
The House Washing Team You Can Trust In San Marcos
Perhaps the first thing anyone will see when they look at your San Marcos home is your house sidings, so ensuring they're always in top condition should be a priority. The problem, however, is that house sidings can be magnets for unsightly materials such as dust, dirt, algae, and grime, and keeping them clean isn't easy. With professional house washing by Bleu Bison Wash Solutions, you won't ever have to worry about your sidings losing their beauty because we'll do all the hard work at a price anyone can afford.
Regardless of what type of sidings you may have, our house washing service will see to it they get an expert clean. We use a wide range of professional surface cleaning equipment to remove even the most stubborn eyesores off your sidings. Once our pros have cleaned your home, your sidings will be restored to their original beauty and be able to last you much longer without degrading.
Graffiti Removal For All Materials On Your San Antonio Business
Your commercial property is an investment and, as such, deserves to be treated with the utmost care. If your surfaces have been vandalized with graffiti, stop and call Bleu Bison Wash Solutions for an immediate graffiti removal service! Our pros will easily and quickly wash away all of the paint stains from your exterior surfaces, and you'll be amazed at how clean they look once we're done.
Although spray paint is always a challenge to remove, it becomes more challenging once time has passed. As soon as you know your building has been defaced; it's time to react. Letting graffiti linger may scare off prospective clients. A vandalized exterior makes it look like the business is no longer operating. Of course, you also don't want to send out the message that your business is an easy target for criminal behavior. Leaving graffiti on your wall leads to more tagging but may also attract loitering, theft, or more severe vandalism, like broken windows.
Just like with rust removal, you want to get rid of graffiti as soon as you see it. Let our pressure washing pros show you just how easy it is to remove graffiti with our innovative technology and mess-free services. It might seem tempting to perform the task yourself, but we ask you to stop and reconsider! Our experts know exactly what techniques and applications to use on your exterior surfaces to thoroughly clean them without the risk of damage. If your San Marcos property has unwanted spray paint or other stains, contact our pros for expert graffiti removal services.
Reviews And Testimonials For Bleu Bison Wash Solutions In San Marcos