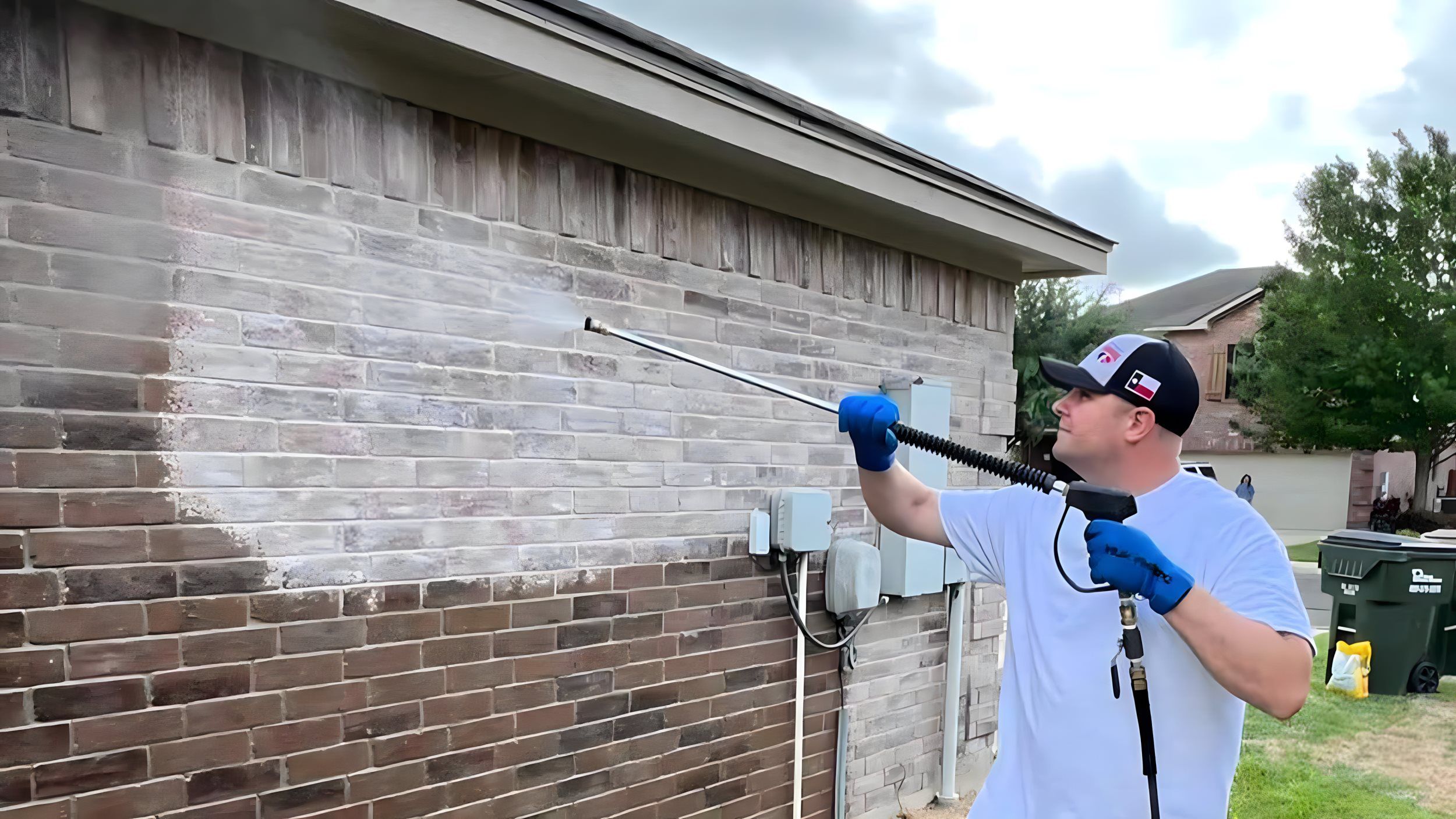 Best Pressure Washing Company In Austin
Do the exterior surfaces of your Austin home or business need a professional deep clean? The pressure washing pros at Bleu Bison Wash Solutions are who you can trust to get all of your Austin surfaces looking better than ever!
Bleu Bison Wash Solutions is a local, professional pressure washing company that prides itself on always keeping our word to our customers. We love the city of Austin, and there's no task too tall for our pressure washing team. If you own a home or business and want to level up your curb appeal, you won't find a crew that works harder than our specialists!
If you're looking for pressure washing services in Austin, you can count on us! Let us know the next time you need top-rated treatments such as:
We specialize in cleaning all types of exterior surface materials, and no stain, spot, or streak's proven too stubborn for our pros! For professional pressure washing in Austin, contact Bleu Bison Wash Solutions at 830-730-8877 and ask for a free estimate today!
Austin's Most Trusted House Washing Team
Your Austin house sidings won't stay beautiful forever, but with some help from the pressure washing pros at Bleu Bison Wash Solutions, you can keep them gorgeous for a very long time. House sidings must withstand whatever mother nature throws their way, and they can succumb to fading, algae, and weather damage if not properly maintained. Our professional house washing service is what you can trust to keep your home spotless no matter how old or filthy it may have become.
Some of the benefits you can expect from our house washing treatment include:
Deep cleaning that will rejuvenate all of your house sidings and elevate your curb appeal and property value

Complete elimination of eyesores and organic substances such as algae and mildew

Disinfection and sanitization of your sidings to promote a healthier living environment for you and your family

Superior protection for your sidings so they can resist premature degradation and last you for much longer
Graffiti Removal To Make Austin Businesses More Attractive
Spray paint can be notoriously difficult to remove. Don't spend the time, money, and effort trying to get rid of it on your own– trust our affordable graffiti removal service to get rid of every sign of spray paint before you know it. We offer the most trusted graffiti removal service in the Austin area, making us the best choice to depend on when you need spray paint removed from your property.
It's important to note that taking advantage of our other services can have the effect of fending off those who create graffiti on your property in the first place. Using our house washing, commercial pressure washing, and building washing services can make a statement that your property is well taken care of and not a site for graffiti to be placed.
Our graffiti removal service is an integral element of our mission to help rejuvenate our area. As a local business, pressure washing for Austin is how we can contribute to the revitalization of our community. Due to this, graffiti removal is one of the most important services we provide for our neighbors.
For this reason, as well as the unmatched quality of our services, we encourage you to trust us with your pressure washing needs. We understand how dealing with graffiti can feel for a property owner and are happy to take care of it for you. Let us help to restore your building to its inherent beauty by calling Bleu Bison Wash Solutions to schedule this service whenever necessary.
Reviews And Testimonials For Bleu Bison Wash Solutions
In Austin