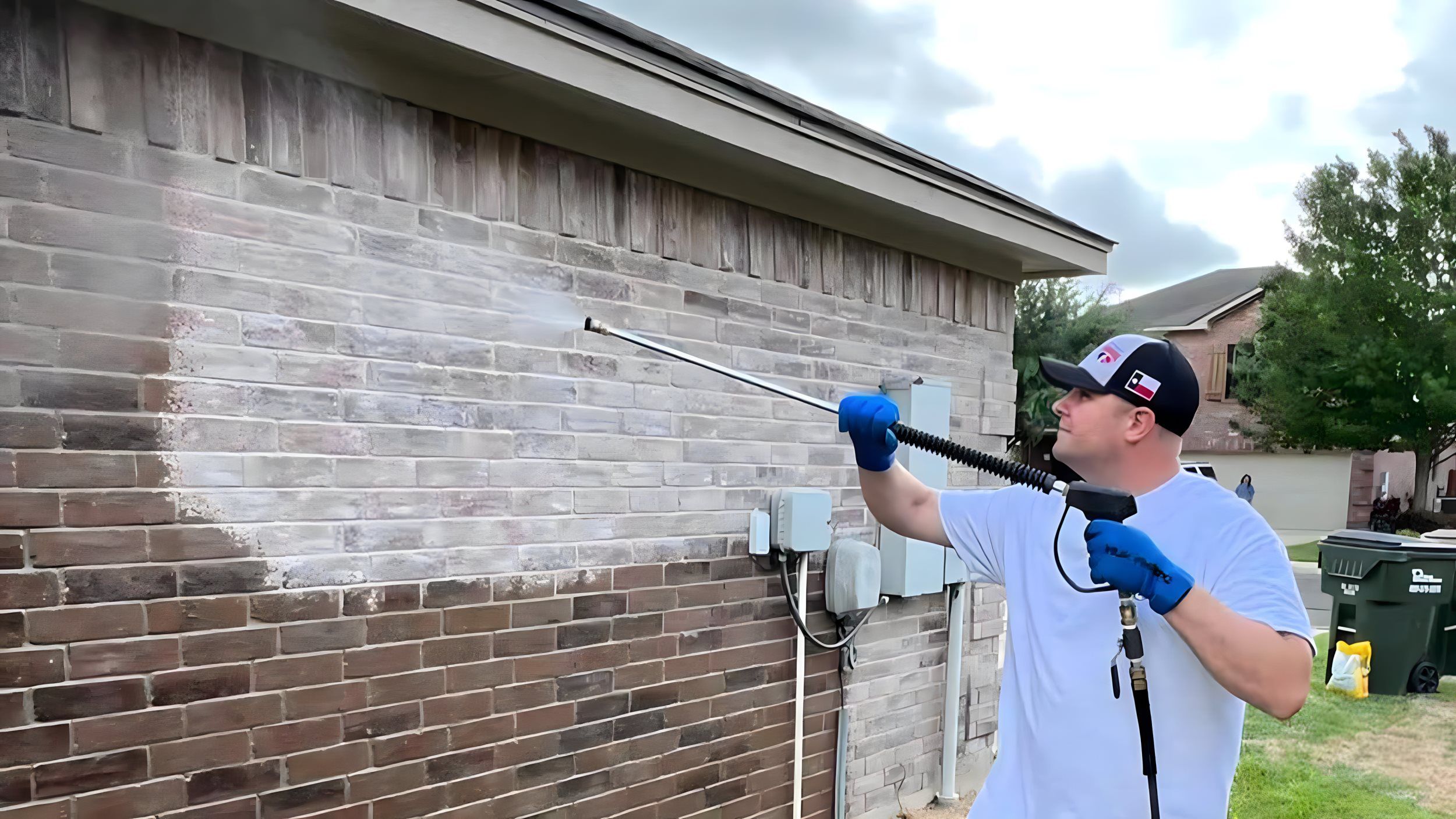 Premier Pressure Washing Specialists Serving San Antonio
If the surfaces of your San Antonio home or business have become a spur in your side, then you could use the help of the exterior cleaning experts at Bleu Bison Wash Solutions! Our professional pressure washing services will give your property the deep cleaning it needs to look better than ever!
San Antonio is home to some of the most beautiful houses and businesses in Texas, but they didn't get that way on their own! People rely on professional pressure washing to keep their surfaces spotless, and Bleu Bison Wash Solutions is proud to have played a part in keeping this city so beautiful. When your exterior surfaces look a little under the weather, you can always depend on our hard-working pros to give them the revitalizing treatment they need to look their best!
The next time you need top-rated pressure washing for your San Antonio property, reach out to us for professional services such as:
We're not satisfied unless you're thrilled with what our technicians can achieve! For pressure washing you can trust in San Antonio, contact Bleu Bison Wash Solutions at 830-730-8877.
San Antonio's Leading House Washing Team
The sidings on your San Antonio home may be durable, but they're far from invincible! Over time, dust, algae, dirt, and other grime will take their toll on your sidings and, in turn, your curb appeal. Professional house washingis what you need to keep your home gorgeous, and nobody does that better than the experts at Bleu Bison Wash Solutions!
The weather here in Dripping Springs isn't too kind to our house sidings, and if they're not maintained, they'll end up hurting your property value and more. Professional house washing by Bleu Bison Wash Solutions is a small investment that will pay for itself in the long run, and our pros are capable of making any home look better than ever.
Graffiti Removal For All Materials On Your San Antonio Business
If your business has suffered from the work of graffiti artists, don't worry too much– you only have to call Bleu Bison Wash Solutions for the best graffiti removal in San Antonio. The success of our graffiti removal lies in our knowledge of removing paint from many different surfaces. Different surfaces have different textures, and proper removal techniques can differ between textures.
Brick, cement, and concrete - The most common spray-painted areas we service are made of brick, cement, or concrete. Since these surfaces are porous, we begin by heavily applying a specially formulated graffiti remover.

Glass and plexiglass - With most glass and plexiglass surfaces, we can remove graffiti easily with a solvent specially formulated not to damage glass surfaces.


Stucco - Due to stucco's bumpy surface, sanding is not an option for removal. Our approach for stucco surfaces is a strong solvent followed by a high-pressure wash. Due to the stucco's texture, a paint touch-up may be required.


Wood - For best results, it is essential to act quickly for graffiti removal on wood surfaces. The sooner spray paint removal is attempted, the likelier the removal will be successful. We use a solvent formulated for wood only; sometimes, a paint touch-up may also be required.


Vinyl siding - Vinyl siding is essentially made of plastic; in most cases, solvents can mar the vinyl. We spot-test a variety of different solvents, choosing the one that causes the least amount of damage. In most cases, the paint will need to be patched.

Reviews And Testimonials For Bleu Bison Wash Solutions In San Antonio