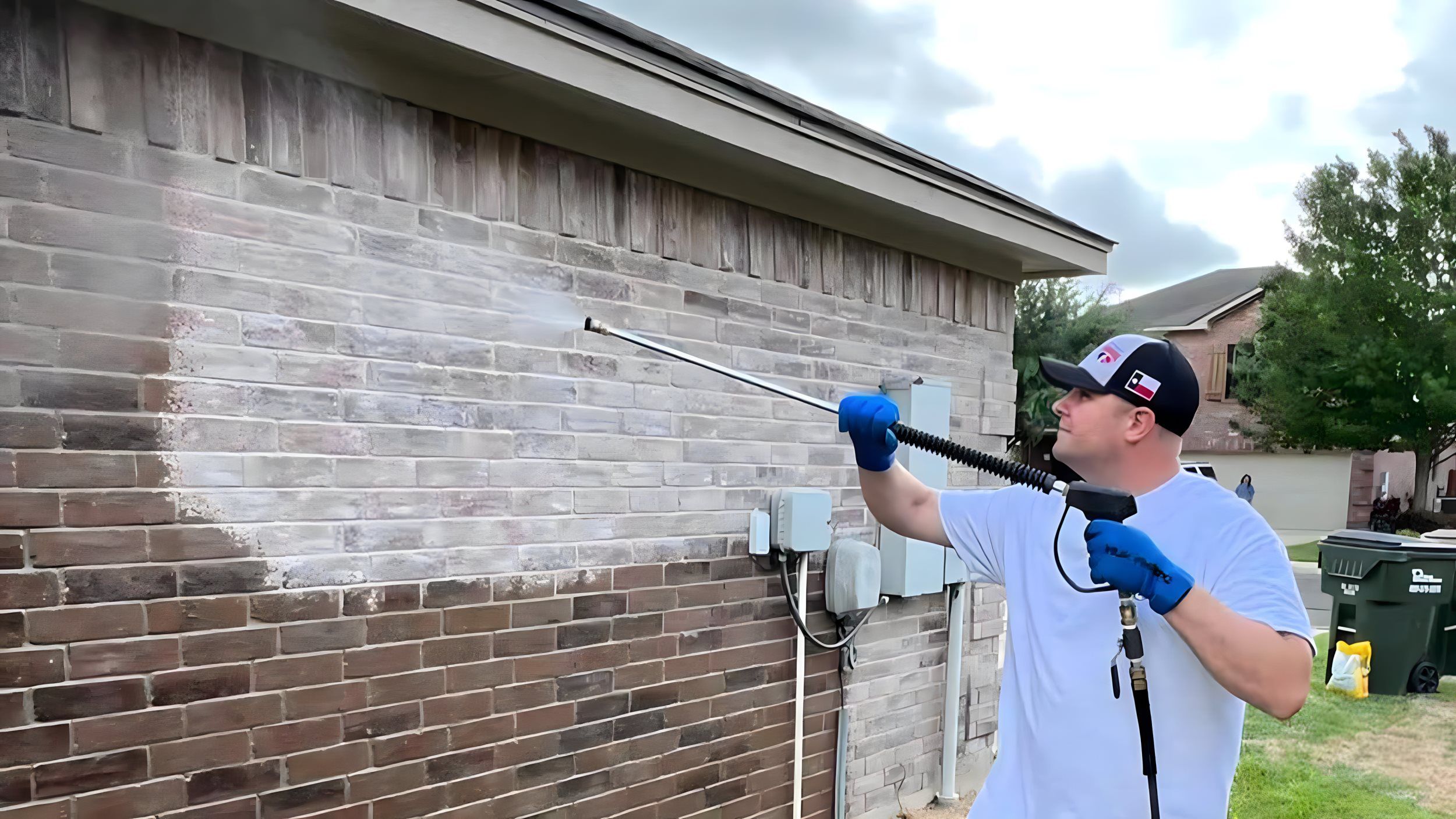 Expert Pressure Washing Company Serving Buda
If you're in Buda, Texas, and want your property to be as beautiful as it was when it was brand new, then Bleu Bison Wash Solutions is the company you can trust! Our pressure washing specialists have all the services you need to get your curb appeal to the next level and beyond!
The people who live and work in Buda take great pride in how their homes or businesses look. Bleu Bison Wash Solutions is honored to be the pressure washing team Buda depends on when they need top-rated pressure washing services. We keep our commitment always to delivering the results our customers deserve. We have years of experience helping our neighbors in this community, and unlike other companies, we never give anyone the runaround or fail to keep our promises. With our advanced pressure washing equipment and eco-friendly cleaning solutions, we can make any unsightly substance on your property a thing of the past!
Do you need pressure washing you can depend on in Buda? Call our team for expert services such as:
You'll love how we can revitalize your property and make your surfaces spotless again! For professional pressure washing in Buda, contact Bleu Bison Wash Solutions at 830-730-8877.
Buda's Number One House Washing Company
Has your Buda home started to take on too much grime? Then leave it to our house washing experts, and we'll make it look brand new! We're the pressure washing company you can always depend on to give your home a precision clean.
Our house washing team uses advanced pressure washing technology and cleaning solutions to lift even the most stubborn substances off of your sidings. Regardless of what type of sidings you may have, our technicians can clean even the hardest-to-reach spaces to give them a rejuvenating wash that will stand the test of time. When you rely on our house washing service, your sidings will look not only look gorgeous again, but they'll enjoy long-lasting protection that will extend their lifespan.
Quick & Thorough Graffiti Removal To Protect Your Buda Business In The Long Run
If you're dealing with the headache of graffiti on your business exteriors in Buda, then all you need is graffiti removal by Bleu Bison Wash Solutions to restore its appearance. We know how frustrating it can be to have your business exterior tarnished by this act of vandalism, and we are more than happy to provide a speedy solution with our pressure washing prowess.
Nothing spells doom for your property's curb appeal like an unsightly smattering of graffiti across its exterior. It makes your building appear rundown and abandoned, which is less than ideal for generating foot traffic through your doors. It will also negatively impact any plans you might have to sell or lease your commercial space in the future.
If you want to retain your property's clean, attractive appearance, then graffiti removal and storefront cleaning are the places to start. Bleu Bison Wash Solutions is the top choice for pressure washing in Buda, and our technicians will be able to polish your exteriors back to perfection and finally eliminate pesky spray paint stains once and for all. It's documented that the faster you remove graffiti, the less likely it is for vandals to target your business again. Once they realize their messages will be washed away before anyone can see them, they won't waste more time tagging your building!
Reviews And Testimonials For Bleu Bison Wash Solutions In Buda