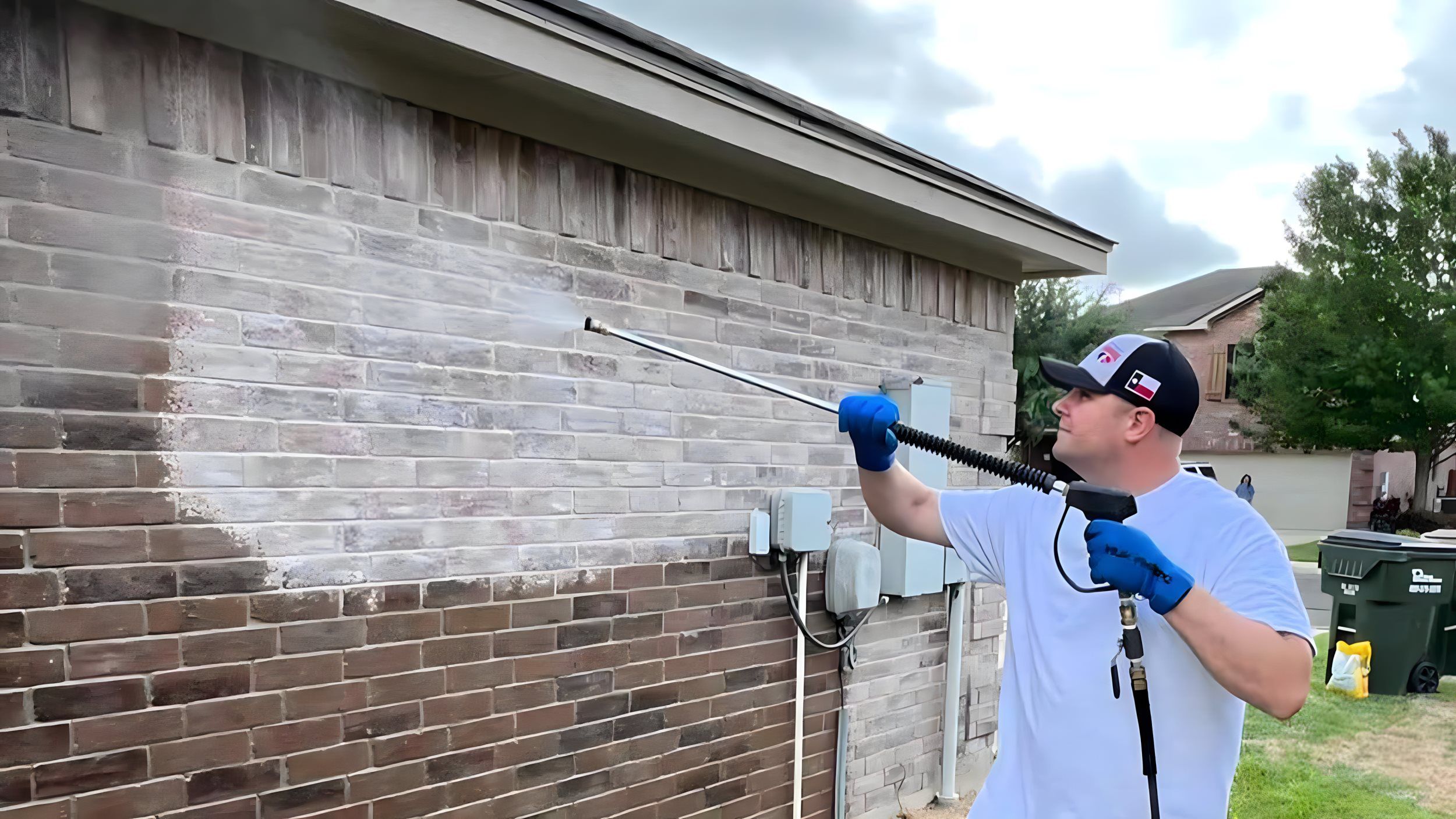 Outstanding New Braunfels Pressure Washing Services
Has the time come to get your New Braunfels home or business gorgeous again? Then the pressure washing company people rely on around for the best results is none other than Bleu Bison Wash Solutions!
Having a home or business in New Braunfels means you've made an important investment in a city that people are proud to belong to. Bleu Bison Wash Solutions feels the same way, and that's why our pressure washing services are unmatched when it comes to delivering customers top-notch results at an affordable price. We're honored to have you as part of our community, and there's a project too challenging for our pressure washing specialists to take on! If you need your surfaces beautiful again, we'd love to help!
Why do people here in New Braunfels depend on Bleu Bison Wash Solutions more than any other pressure washing company?
We treat our customers like family and treat their property with the same respect we would treat our own.

Our cleaning solutions are non-toxic and won't harm your pets, lawn, or landscaping.


We're honest and professional technicians who show up on time and keep our commitments.

There's no project too big or challenging for our team.

We aim to exceed our customers' expectations for every service we provide.
When you're ready to get your surfaces shining like new again, Bleu Bison Wash Solutions is who you can trust. Call our New Braunfels pressure washing company for a free estimate today at 830-730-8877.
Expert House Washing In New Braunfels
We expect a lot from our house sidings in New Braunfels. Not only do our sidings need to be able to put up with the elements, but we also expect them to keep a clean, beautiful appearance all year long. But sidings can't do what we want without a little professional help, and that's when homeowners rely on the house washing expertise of Bleu Bison Wash Solutions.
House washing is the maintenance your sidings need to keep a gorgeous appearance and last you for many years. Our house washing treatment will remove any substances and grime from your sidings, giving them a thorough clean that will protect and revitalize them. If you need a house washing treatment that will make your home look brand new again, don't hesitate to give Bleu Bison Wash Solutions a call.
We Use The Safest Graffiti Removal Techniques For New Braunfels Businesses
Graffiti buildup and stains are some of the fastest ways that your business can lose its credibility and profitability. That's why our team at Bleu Bison Wash Solutions is your source for all graffiti removal in New Braunfels. There are a few different methods for graffiti removal. The one that removes graffiti the best is a pressure washer that can heat the water to around 190 degrees. Coldwater pressure washers also work well, but they sometimes require additional harsh chemicals, which we try to avoid using.
One graffiti removal method you should always avoid is anything involving sand: it's loud, extremely dusty, and can leave anything from scratches to indentations on the surface beneath the graffiti, depending on how hard that surface is. That's why our graffiti removal team uses only the best pressure washing techniques for your surfaces. Rest assured that we will never leave additional scratches, indentations, or other surface damage when we clean the graffiti from your building's exterior.
When you work with the pros at Bleu Bison Wash Solutions, you know that you're getting the most professional results, along with the best customer service. If your surfaces don't look bright, shiny, and clean when we're finished, then we'll clean them until they meet your expectations. When you're ready to experience high-quality graffiti removal for yourself in New Braunfels, call our pressure washing team today to schedule your next appointment!
Recent Projects In New Braunfels, TX
A client called and needed their entire apartment complex concrete areas to be cleaned. This included their driveways, parking areas and sidewalks. They also needed the parking lot to be striped and painted after cleaning. Unfortunately, they had tried to use another company before calling Bleu […]
Reviews And Testimonials For Bleu Bison Wash Solutions In New Braunfels