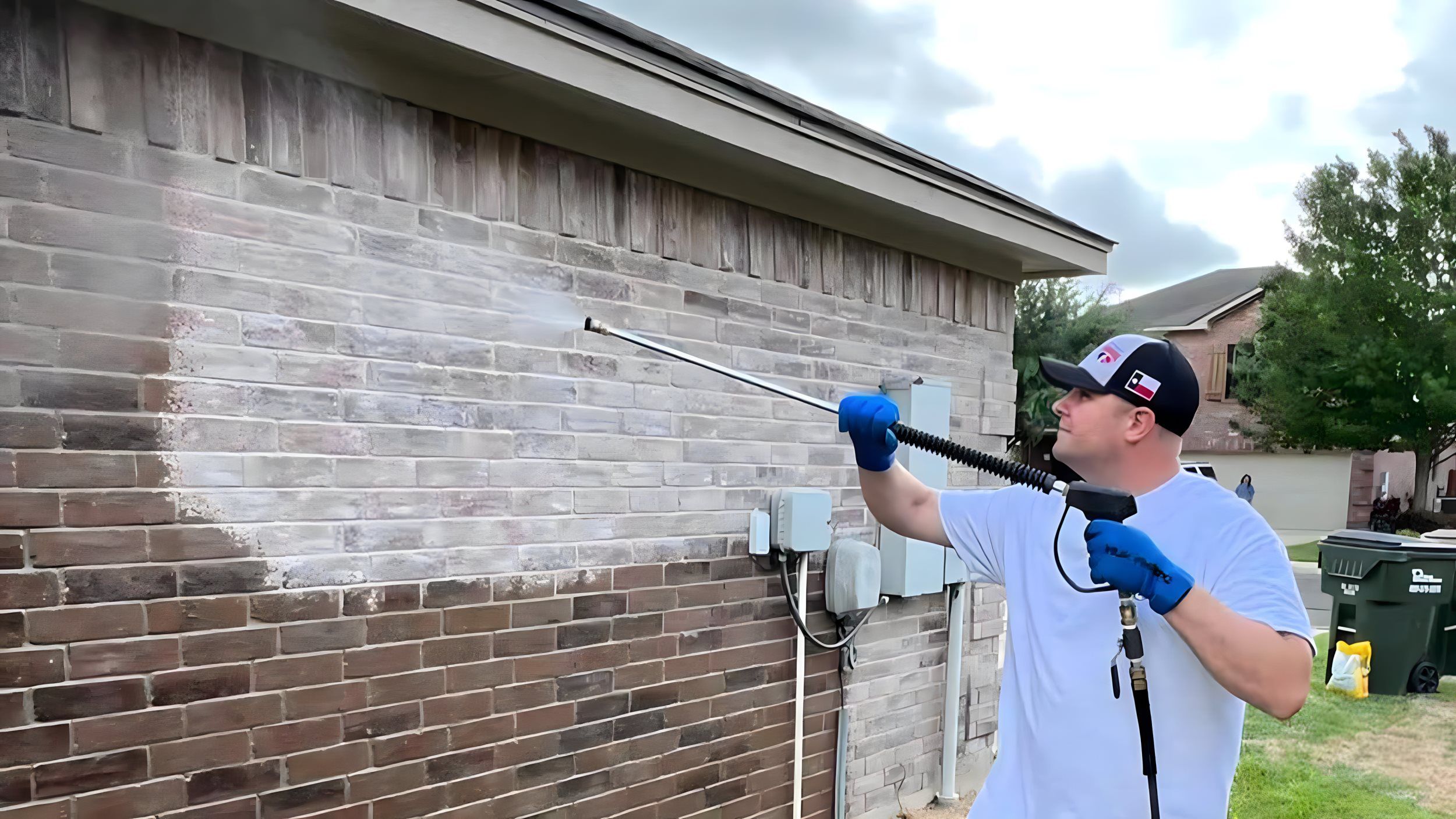 Expert Pressure Washing Company In Wimberley
No matter how filthy your exterior surfaces have gotten over the years, the pressure washing pros at Bleu Bison Wash Solutions can make them look brand new again! If you own a home or business in the Wimberley area, we're the team you can depend on to take your curb appeal to the next level and beyond.
At Bleu Bison Wash Solutions, pressure washing is more than just a passion; it's also a way to connect with our neighbors more and help our community. We love serving the kind people in Wimberley, and we appreciate how much they value this charming city. Unlike other companies that tend to promise the world and deliver a pebble, Bleu Bison Wash Solutions provides pressure washing services that achieve what it promises and delivers what our customers should expect from a professional outfit. We don't believe in cutting corners or selling a service that our customers don't need, and we work harder than anyone to achieve results that truly impress.
The next time you find yourself in need of pressure washing for your Wimberley property, contact our team for services like:
We'd be delighted to help you restore the beauty of your home or business. When you want professional pressure washing in Wimberley, call Bleu Bison Wash Solutions at 830-730-8877.
Your Wimberley House Washing Specialists
Do your house sidings look like they could use the help of a professional cleaning crew? Here in Wimberley, nobody does house washing better than Bleu Bison Wash Solutions, and we've got all the tools and knowledge needed to get your home gorgeous once more.
We bring back the beauty of house sidings with an advanced house washing system that removes stubborn eyesores and grime build-up. Our house washing specialists utilize advanced cleaning solutions that break apart any contaminants on your sidings without damaging any of the surface materials surrounding them. Once we've cleaned your home, you'll enjoy a boost in curb appeal, and your sidings will last you longer without degrading.
Wimberley Relies On Us For Exceptional Graffiti Removal
Graffiti instantly devalues your property and tarnishes the legitimacy of your business, leaving a stain on the professional impression you want to leave on your customers. Don't allow graffiti to deface your home or business anymore!
While graffiti often comes in the form of spray paint, vandals also use markers, adhesives, shoe polish, lipstick, and stencil and etching products. The longer the graffiti has permeated the exterior surfaces of your business, the more difficult the removal process will be. So don't wait any longer: call Bleu Bison Wash Solutions for a quote on graffiti removal; no matter what form, your surfaces will be spotless once we're finished with the job!
Here at Bleu Bison Wash Solutions, we use a combination of pressure washing and soft washing in our graffiti removal process to ensure that the vandalism is removed completely without any damage to the wood, brick, stone, glass, or other material surfaces. Our grade-A detergents permeate the ink of the graffiti to completely remove it, no matter how set in the stain. Plus, our detergents are biodegradable, meaning they are completely safe and will not damage plants or greenery near the site of the graffiti.
Call today for a free graffiti removal quote from Bleu Bison Wash Solutions, the most trusted source for pressure washing for Wimberley.
Reviews And Testimonials For Bleu Bison Wash Solutions In Wimberley