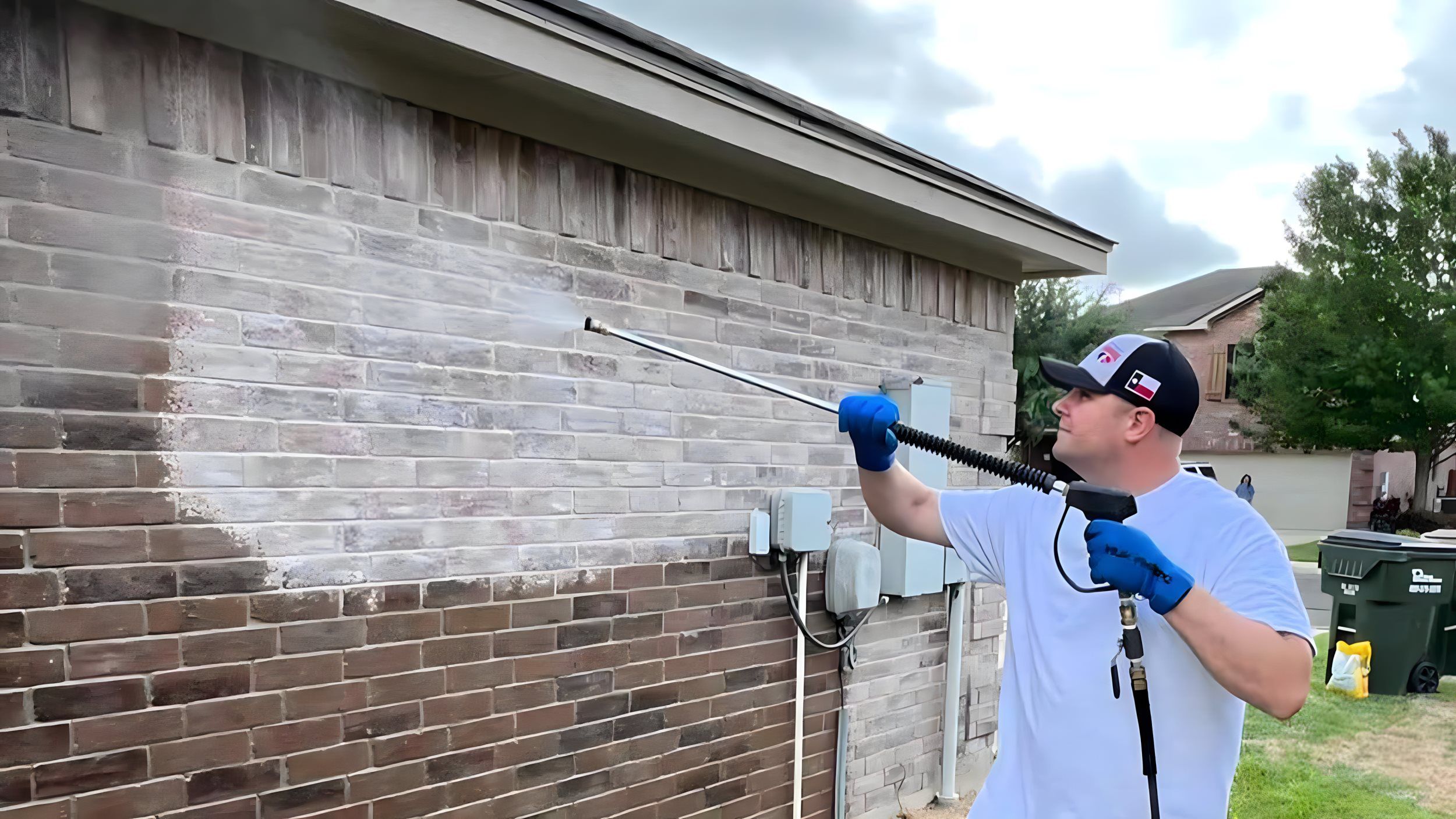 Go-To Pressure Washing Company Serving Kyle, TX
Are you ready to get your Kyle home or business restored to its original glory? Then don't waste time with any amateurs - contact the pressure washing pros at Bleu Bison Wash Solutions and let us get your surfaces spotless again!
The homes and businesses here in Kyle don't rely on secret formulas or tricks to keep a gorgeous appearance. People in this part of Texas know they can trust the pressure washing experts at Bleu Bison Wash Solutions to keep their surfaces clean, and we're honored to serve this wonderful community! Bleu Bison Wash Solutions is a local, professional company committed to helping our neighbors and fellow businesses always look their best. We believe that if the customer isn't happy, the job isn't finished, and we'll always work harder than anyone to ensure the people of Kyle get the most breathtaking results.
If your Kyle home or business could use a beauty makeover, we're more than happy to help! Give our team a ring the next time you could use professional services such as:
We've built our reputation on hard work and delighting our customers with what we can achieve. So when you're ready for Kyle pressure washing that you can depend on call Bleu Bison Wash Solutions at 830-730-8877!
Kyle's Number One House Washing Team
Any homeowner finds out sooner or later that when their house sidings get filthy, it can be a fruitless effort trying to clean them up themselves. That's because house sidings need a specialized cleaning treatment, and professional house washing by the trusted team at Bleu Bison Wash Solutions is the solution.
Our affordable house washing service will get your Kyle home looking spectacular again for an affordable price. We use advanced surface cleaning technology to get spotless sidings without damaging more delicate structural materials. Our non-toxic cleaning agents are perfect for removing grime without harming your lawn. When you depend on our team, you'll have gorgeous sidings that stay clean for longer and are protected against premature degradation.
Graffiti Removal To Restore Your Business Exteriors In Kyle
If unsightly graffiti has diminished your Kyle property's curb appeal, the graffiti removal pros at Bleu Bison Wash Solutions offer the highest quality graffiti removal and custom cleaning applications for safe spray paint clean-up on any surface. We are the trusted, experienced pressure washing specialist serving Kyle and the surrounding that you can rely on for expert graffiti removal to restore your property's freshness.
Prompt graffiti removal is important to ensure that paint comes off easily and to prevent instances of copycat vandalism. Our graffiti removal specialists have the right tools and expertise to get the job done right, and with our expert assistance and service guarantee, you'll know that you're getting the top-quality results you deserve.
Whether your business's exterior surfaces are covered in unsightly graffiti or accidental overspray, our spray paint clean-up specialists can safely remove unwanted "artwork" from even your most delicate exterior surfaces. We use our custom cleaning methods, eco-friendly cleaning products, and professional hands-on techniques for expert spray paint clean-up and graffiti removal to restore the fresh appeal to your outdoor spaces.
We're our own toughest critics at Bleu Bison Wash Solutions– when we're happy with our work, we know you will be too! Use our easy online form to request a free estimate for graffiti removal and other commercial pressure washing services for your Kyle property, or give us a call to speak to one of our expert team members to learn more about graffiti removal.
Our Latest Projects In Kyle, TX
Auto Shop Stone Cleaning And Brightening In Kyle, TX
A customer called needing their place of business to be cleaned. They receive a lot of foot traffic in and out of their commercial location and the limestone walls were just looking nasty. First, we started by removing all the debris and trash that had accumulated […]